Fire Door and Fire Stopping Surveys
Staines Safety Services offer fully accredited, third-party inspections for both fire doors and fire stopping compartmentation.  Whether your requirement is for a single building, or a full estate, our expert teams are on hand to deliver detailed surveys nationwide.
With broad, multi-sector experience, we specialise in delivering inspections in occupied buildings, providing our clients with all the information needed to make informed decisions on how to maintain passive fire safety in their buildings.
Trained inspection of service penetrations and voids in compartment lines to LPS 1531 fully accredited standards across the UK

National inspection of fire doors to ensure compliance to the Regulatory Reform Order (2005) to third party accredited LPS 1197 standards.

Our reports are different, giving clear options and often simple routes to making your buildings safer.
Fire Compartmentation (Fire Stopping) Survey
The Requirement
Article 17 of the Regulatory Reform (Fire Safety) Order 2005, in respect of the requirement for maintenance of fire safety provisions, states that it is advisable to set up a regular planned preventative maintenance programme for completed works.
In relation to compartmentation, the following guidance could be adopted in accordance with BS 9999: 2017:
It is essential for the safety of the occupants of a building that fire safety equipment (including passive fire protection provisions) is inspected frequently. Although much of the inspection can be undertaken by suitably trained personnel, a formal agreement should be made with the installer or the installer's representative to provide the regular inspection and testing described in the relevant British Standards for individual fire safety installations.
To satisfy this need Staines Safety Services offers a range of surveys and reports tailored to the client's unique circumstance and priorities.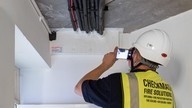 The Critical Role of Compartmentation (firestopping)
Effectively 'stopping' a fire from spreading throughout your building, fire compartmentation is the most effective means of limiting fire damage before the fire brigade arrives.
By dividing building premises into "fire compartments", fire is contained by forming a barrier against smoke, heat and toxic gases. This effectively holds the fire in the area of origin, providing protection for the building and its occupants.
Due to the vital role compartmentation should play in your overall fire strategy, it's fundamental that both the fire resisting partitions and fire doors should be
properly installed by expert teams who fully understand the importance of correct product installation for maximum fire safety.
The best way to answer "Why firestopping?' is by looking at the statistics.
75% of all fire deaths are caused by smoke inhalation
Over half of fire-related deaths occurred in rooms where the fire did not originate
Smoke can fill a 20 by 20 by 20-foot room through a pencil sized hole in less than 4 minutes
Firestopping and compartmentation came into its own in the late 1970s to help reduce the catastrophic loss of life and property caused by smoke and other airborne pathogens. It is especially critical in buildings where the mobility of tenants is restricted, including hospitals, assisted living and nursing homes, along with high-rise buildings and prisons.
What to Expect From a Compartmentation Survey
Our teams will visually inspect all areas of the identified compartment lines within your building to assess their likely performance in the event of a fire. Defects in compartmentation lines can take numerous forms and require expert identification.
Common defects include: simple penetrations, such as pipework entering or exiting a compartment with no gaps, or inappropriate firestopping, allowing smoke or fire to potentially pass from one compartment to another.
Others defects include, cabling, voids, ducts or linear gaps where compartment lines do not fully encapsulate the compartment. These defects are either latent, from the original build, or imposed from subsequent works (such as M&E events). Both are re-iterating the need for regular inspection.
What type of Compartmentation Survey do I require?
There are a number of differing compartmentation surveys available.  Dependent upon the type and use of your building, your fire strategy, and potentially the recommendations of an existing fire risk assessment, you may choose different levels of compartmentation survey.  All inspections can cover common areas and dwellings dependent upon scope.
If you would like to discuss our services please get in touch by emailing us at [email protected]